On June 8, 2021, World Oceans Day, Hawaiʻi Governor David Ige signed the Hawaiʻi Shark Protection Act into law (now HRS §188-40.8). Effective January 1, 2022, no person shall intentionally or knowingly capture or entangle any shark, whether alive or dead, or kill any shark, within state marine waters. Hawaiʻi is the first state in the nation to provide sharks with these essential protections.
Sharks, or mano, are sacred 'aumākua, respected deities and protectors, to many native Hawaiian families. Sharks also are key apex predators critical to the health and resiliency of our entire marine ecosystem. Research has shown that the global abundance of oceanic sharks and rays has declined by 71%. This depletion has increased the global extinction risk to the point at which one-third of the species are threatened with extinction. In Hawaiʻi, research comparing earlier predator population assessments between the Main Hawaiian Island and the protected remote Northwestern Hawaiian Islands have shown reef shark abundance depletion upwards of 90%.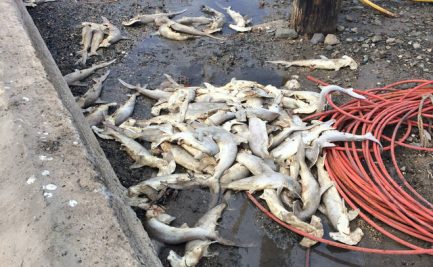 Hawaiʻi was the first state in the nation to enact a shark fin sales ban in 2010. This became a global initiative with more than a dozen states and U.S. territories following suit. Unfortunately, and despite this law, Hawaiʻi continued to see cases of intentional killing, capture and entanglement of sharks in state waters. Therefore, this law was enacted to address the killing or capture of whole sharks and other parts of sharks not covered under Hawaii's landmark anti-finning law. Hawaiʻi's sharks now have the same protection as Hawaiʻi's rays.
What are some of the activities that are prohibited under this new law?
The intentional or knowing capture, including intentional catch and release, of any shark is prohibited. Shark "hunts" or shark "fishing" charters, where the capture of sharks is intentional is prohibited. It is also prohibited to capture any shark for personal, recreational or commercial aquarium purposes and to intentionally capture or entangle a shark using any gear. Further, it is unlawful to intentionally capture a shark for consumptive purposes or to use a shark as bait to capture another species.

What species of shark does the law apply to?
The law defines "shark" as any species of shark within the subclass Elasmobranchii. For a listing of shark species that frequent Hawaiʻi waters visit: https://dlnr.hawaii.gov/sharks/hawaii-sharks/species-list/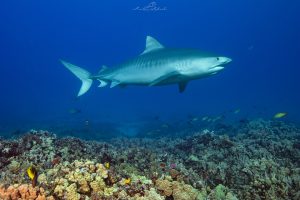 What are the penalties for violating this law?
Any person violating this law shall be guilty of a misdemeanor; provided that the fine for violating this section shall be: $500 for a first offense; $2,000 for a second offense; and $10,000 for a third or subsequent offense; a civil fine not exceeding $10,000 per offense; an administrative fine of no more than $10,000 for each shark captured or entangled; Seizure and forfeiture of any captured sharks or any part or product therefrom, commercial marine license, vessel, and fishing equipment; and assessment of administrative fees and costs, and attorney's fees and costs. The criminal penalties and administrative fines, fees, and costs shall be assessed per shark captured or entangled, whether dead or alive, or killed in violation of this section.
For more information contact DLNR's Division of Aquatic Resources at: 808-587-0100 or email DLNR.Aquatics@hawaii.gov or visit: https://dlnr.hawaii.gov/sharks/  To report suspected violations, contact DLNR's Division of Conservation and Resource Enforcement (DOCARE) at 808-643-DLNR or via the DLNRTip App
CLICK HERE for Best Practices to Safely Release Unintentionally Hooked Sharks