Our Vision
We catalyze change for coral reefs and their wildlife, enhance the beauty and wellbeing of these threatened rainforests of the sea, and ensure a future where reefs and wildlife are protected for the benefit of all.
Our goals are to:
Reduce the needless death and suffering for coral reef wildlife,
Enhance legal protection for coral reef wildlife, and
Increase, restore and protect wild fish populations and coral reef habitat.
Our solution includes consumer and enforcement-directed efforts at the local, national and global levels that have facilitated positive changes at the fishery, distribution, policy and consumer levels.
Education and outreach
Increasing consumer awareness about the issues surrounding coral reef wildlife use in hobby and display aquariums to reduce demand for these imperiled species.
Key Accomplishments
Created the award-winning mobile app Tank Watch which has been downloaded by over 25,000 people. Tank Watch is a Prize Winner in the Wildlife Crime Tech Challenge, a global initiative of the US Agency for International Development (USAID) in partnership with National Geographic, Smithsonian Institution, and TRAFFIC.
We've educated over 1,000 individuals in Hawaii on the impacts of the aquarium trade in meetings, presentations and events, resulting in support for a ban on the aquarium trade from Hawaii's Environmental Council and the Hawaii Office of Environmental Quality Control.
Advocacy
Prompting action by government officials and businesses to end the commercial capture and keeping of coral reef wildlife through research, negotiation and legal action.
Key Accomplishments
Negotiated a commitment from Nordstrom department stores to stop keeping coral reef wildlife captive in their 83 saltwater display aquariums nationwide. Nordstrom agreed to either switch to virtual aquariums, like UNtanked, or to 100% captive-bred fish in any freshwater or saltwater aquariums they may keep.
In Hawaii we prompted action by local governing bodies, including strong resolutions urging a statewide end to the commercial capture of reef fish for the global aquarium hobby and two pieces of landmark legislation that essentially ended the trade in Maui County.
Lawsuit on the need for an assessment of the environmental harm of the aquarium fish trade in Hawaii resulted in a landmark decision by the Hawai`i Supreme Court in September 2017 Click here to learn more
In partnership with Hawaii's Dept. of Land and Natural Resources, we launched an aquarium poaching reward and tip-line: 808-NO-POACH. Click here to learn more
Science
Conduct scientific research on the harmful impacts of the aquarium trade
Key Accomplishments
We conducted research assessing the prevalence of cyanide-caught fish in the US marine aquarium trade and confirmed the widespread and illegal use of cyanide in the international trade that captures fish for household and other aquariums. We presented the initial findings in June 2016 at the International Coral Reef Symposium and expect a peer-review and publication of the work by mid-2017.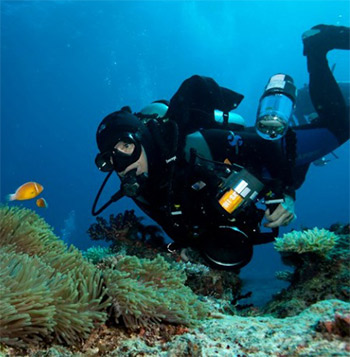 ABOUT US
Rene Umberger, FTF's founder and current Executive Director, works full time to provide leadership to FTF and to all elements of the organization's activities.  In 2010, she spearheaded the passage of two Maui County wildlife protection initiatives that established the strongest protections yet in Hawaii.